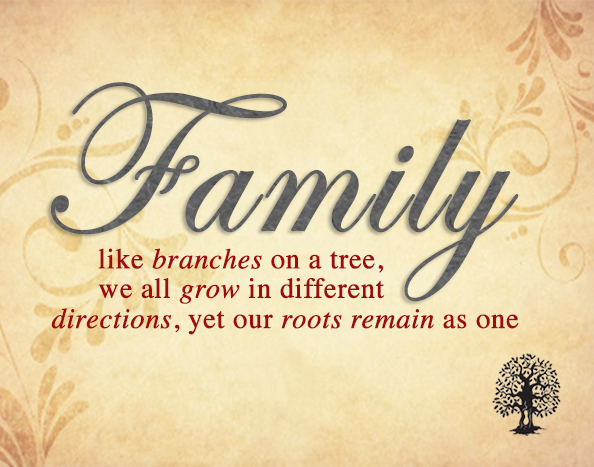 Today's post is all about FAMILY – researching your own family roots…where you came from, all of those people who  brought you to where you are at today!  I knew my grandparents on my mom's side of the family, though I didn't know a lot about my great grandparents, and my great great grandparents…  We didn't talk much about my dad's side of the family – all I will say is his side had polygamy LOL!!!  Funny how even with my last name, I had the polygamy and my husbands side didn't (3rd great grandfather is actually adopted)!!!  I didn't know the stories behind the "names"….just that I was born and here I am…but that is the way it is when you are not close to family!
I found a web site I could work on and started a tree with me, my mom and dad…and back at least 5 generations I have went!  I have a plan with my project…doing a tree for me, and one for my husband, and eventually a book for each of us to have!!!  There is something very therapeutic about working on your tree…getting answers you just simply didn't know you needed, connecting with people you didn't know you had!  Stories that people have written, photos they have posted, and the stories from your ancestors come to life!
Personally, I have found it more humbling to work on my tree – as well as my husbands tree!  I have found a strong line of people on both sides of our families.  I have found FAMILY in the truest sense of the word back in the day!  I have found really interesting people…..and one day will share more about some of the stories I have found!!!  It makes me want to work that much harder in life because of them!!!  I would hate to go in front of all of them, disappointing them for what I have chosen to do in life – I want them to be proud of who I ended up becoming at the end of it all!!!
Your challenge for the day –
Look at web sites you can start to do your family tree on – Familysearch.org – Ancestry.com to name a couple of sites you can start with!  Find something you can work on that fits what you are looking at doing!
Do a layout about FAMILY!!!
Find the perfect quote and the perfect picture of family, and do a framed page you can hang on your wall!
Call someone in your family – and simply get a story from their childhood!  Make sure to record it – so you can add it to your tree!!!
On the site I am working on – my trees are private…  MY journey is MY journey, not anyone other journey!  My journey might change – it might be added to…and I am anxious to see where my journey takes me!  My journey hasn't been easy, but it's still MY journey!  I am so glad I found scrapbooking and family history to help shape me to who I am today, so I hope you join me in one or the other (or both)!!!
Thanks for stopping by,
Lynda Jeffs
Memories in Tyme