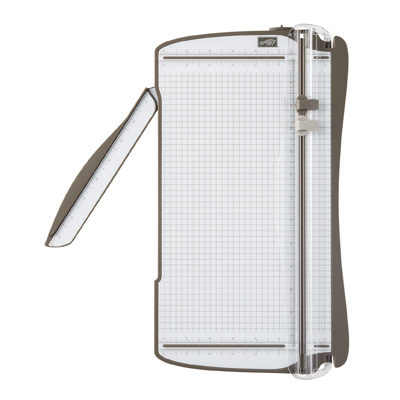 Stampin' Up paper trimmer review – basic supplies for paper crafting or just for home use even!  I am absolutely IN LOVE with this Stampin' Up paper trimmer for sure!  When I decided to purchase a new paper trimmer – I looked at a few different one's – this one simply caught my eye time and time again for MANY reasons!
The Stampin' Up paper trimmer is a very sturdy trimmer, with a lot of different features that make the trimmer really unique!
There is a guide at the top and bottom of the trimmer to help guide your paper through easily!
On top and bottom of both of the guides – a ruler, and to help for those larger pieces of paper, and arm comes out for those 12 x 12 sheets of paper!
Underneath the trimmer is a place you can keep a bunch of other smaller items – a bone folder, another set of blades, paper clips, etc!  And it can't come unlocked easily, which is an amazing feature if you need to take it to a crop lets say!
My personal favorite – it comes with both a cut and score blade in the same handle, making it easier to do both scoring and cutting in the same piece!  I absolutely love that part – I don't have to have 2 different trimmers, or different blades anyway!
The cutting guide, where it helps to make the cut or scoring straight, can be changed out as you need to!  What a great feature here – since one of my other trimmers couldn't cut straight for anything!
Well made – I don't know what they could do to upgrade this at all!
Personally, I really love this trimmer – being able to cut and score without having to change the blade, is priceless to me!  Not having to have other tools – another "priceless" to me…anything that can save me time and money – wow….this tool, does both!  $30 plus shipping, and if you are interested in having one yourself, check out the link above to purchase!  This is an honest opinion about a product I purchased on my own – and so glad I did!!!!
Thanks for stopping by,
Lynda Jeffs
Memories in Tyme