When I first started making my own cards, I lived in Colorado, and had a friend at the time who had a Stampin' Up and a Close to My Heart (formerly DOTS) catalog!  We had the demonstrators from each of the companies come over to teach us how to make our own handmade cards!  You don't need a lot of "stuff" to make your own cards…today's post, is all about Stampin' Up stamps, how to find sets that YOU will use (not me…)!
One thing I will tell you – DO NOT SPEND A LOT OF MONEY.  I know funny, huh – a Stampin' Up demonstrator telling you do NOT spend a lot of money yet on your craft supplies!  Honestly, you will truly thank me for it later on down the line, I assure you!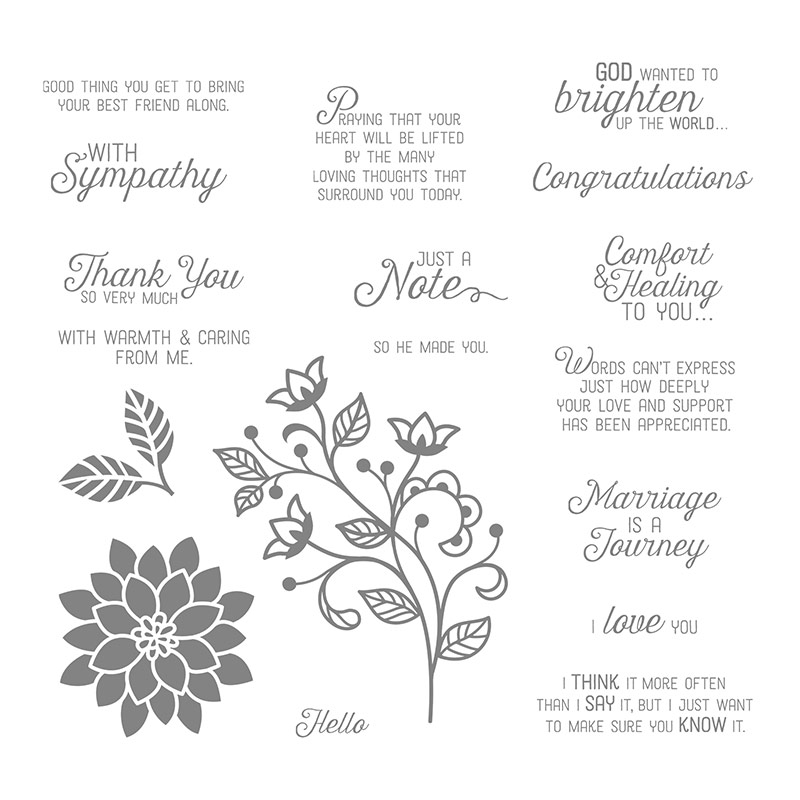 Another thing I will tell you – you do NOT need each and ever stamp, product, item to create with that is known to mankind in order to create your own cards.  Purchase a set of stamps that will let you get creative, and then adding it up from there!
One stamp set I absolutely LOVE LOVE LOVE from Stampin' Up is the Flourishing Phrases set!   With this one set – you can make so many different cards – add another set to it, you can get even more cards that are different!  Add the flower – or the vine with any of the sayings…  Grab a beautiful birthday saying and the flowers…, the flowers with a saying – from sympathy to congrats…so many different combinations here!!!
From this set – add another one!  More of an embellishment type of set, something that you can make even more cards with them!   When I first started stamping – I bought a few stamp sets to start out with, a black ink pad, colored pencils to color it all with, and cardstock!  I didn't purchase everything at once, I started small to see what I liked to do and what I "didn't like" and I didn't go overboard at all!
Stamp set – ink pad – cardstock or cards – something to color the cards with – patterned paper you can use – a trimmer – scissors – die cuts or stickers to go with the stamps – and you have your own cards you can make!  I am working on Hello cards with this set, and can't wait to get to the Sympathy cards!!!
Thanks for stopping by,
Lynda Jeffs
Memories in Tyme